Featured
I often hear that Judaism places a strong emphasis on our deeds, and less so on our beliefs. What does this mean and is it a generalization? By...
Read More
Shmini Atzeret 5773, by Rabbi Stephen Lerner, guest speaker at Temple Emunah Some years ago a young rabbi came to his new congregation...
Read More
Featured
By Jesse Ulrich I have been hearing it from my parents and my community every sense I was a kid: Marry a Jew, and if...
Read More
A crisis of faith can affect anyone at any time. How one deals with it is the subject of two extraordinary books by authors Jennifer...
Read More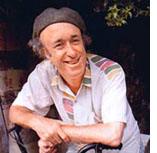 Danny Bloom If racism is the belief that inherent different traits in human racial groups justify discrimination, then faithism is the belief that belief in...
Read More
With Thanksgiving coming up just days after the next JBN Birth Circle, at Temple B'nai Brith in Somerville, it seems like the theme should have...
Read More
A friend of mine died recently, unexpectedly, at age forty-seven. He was celebrating the end of summer, riding a bicycle with his two daughters...
Read More