Each month we feature one of the 12 CJP/PresenTense fellows. This month we hear from Jonathan Shapira.
Jonathan Shapira is the Founder of Boston Israel Cleantech Alliance (BioIL): A program to connect life sciences entrepreneurs, investors and researchers and increase the flow of talent, capital and ideas between Israel and Boston.
"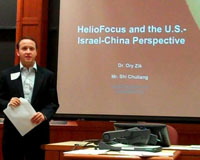 BioIL is off to a fast start since our launch in January. Nearly 100 Israeli and American life sciences entrepreneurs, investors and researchers have joined our network, and we have organized two events at MIT.
The events have featured presentations by executives from start-up pharmaceutical, medical device and healthcare IT companies developing innovative treatments for conditions such as heart arrhythmia and Alzheimer's Disease. In the coming months we hope to organize more events, build a web site, and accelerate the exchange of technology, capital, and ideas between Boston and Israel.
If you are interested in learning more, please join us at http://www.meetup.com/BioIL-MA/."
For more information about the CJP/PresenTense Fellowship, check out our website or email elanaboehm@presentense.org.
This post has been contributed by a third party. The opinions, facts and any media content are presented solely by the author, and JewishBoston assumes no responsibility for them. Want to add your voice to the conversation? Publish your own post here. MORE