It is with sincere and heartfelt appreciation for their hard work and dedication that we say goodbye to the following staff members who are leaving JFS in the coming weeks and moving on to new adventures:
Marc Jacobs

Marc Jacobs was the chief executive officer of JFS from 1996-2020 and is retiring from JFS after 24 years of service.
Encouraging new ideas, incubating new approaches, collecting and analyzing data and demonstrating impacts, creating vibrant partnerships and experimenting with different solutions to accelerate social, academic and health equity are deeply embedded in the JFS culture as a result of Marc's leadership. Marc has ensured that JFS will remain a strong and compelling organization with a bright future.
Marc has received significant leadership awards. He was the sole recipient of the CARLISLE Foundation's 2000 Creative Entrepreneur Award; Middlesex Savings Bank Foundation's Third Annual John R. Heerwagen Award for Nonprofit Leadership; William James College's Mental Health Humanitarian Award for social justice leadership; and the Joukowsky Family Foundation's Sharp Rescuer Prize for supporting Syrian refugees in a large community-wide project.
As Marc's hero and legendary civic leader Hubie Jones recently wrote, "You are truly a long-distance runner for social justice." Marc has been bestowed the honor of CEO emeritus of JFS and an Innovation Fund in his honor has been established to foster and promote future new ideas and approaches.
Diana O'Brien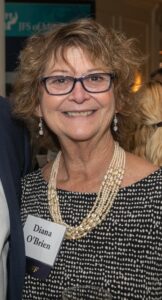 Diana O'Brien, director of the Family Assistance Network program, is retiring from JFS after 23 years of service (1997-2020).
My professional career has focused upon giving voice, supporting and enhancing the lives of at-risk children and families. This has included stints as the youth director in a small Massachusetts town, developing curriculum and working with foster children and families through Judge Baker Children's Center and most notably 22-plus years at Jewish Family Service. At JFS, I began by developing and administering Independent Living Curriculum for mothers in shelters as well as working with the immigrant population around citizenship. I initiated the All Stars program at the Wilson Elementary School and the Healthy Harvest nutritional assistance program. My final assignment at JFS was through CJP's Anti-Poverty Initiative as the director of Family Assistance. With the talent and support of a wonderful team of coworkers, these programs made an enormous impact on the lives of many who had no voice or safety net of their own. I am a licensed certified social worker, having received my B.A. from the University of Florida and my M.Ed at UMass Boston. Mother of three boys (not including my husband) and three grandchildren.
P.S. My first job was as a stitcher at the Lovable Bra Factory, beginning my trajectory in supporting women.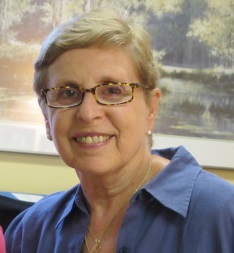 Raquel Woodard
Raquel Woodard, coordinator of Birth Parent and Children Services for the Adoption Choices program, is leaving JFS after 28 years of service (1992-2020).
I have worked at JFS since 1992. I first started doing some clinical work and some adoption work, and as the Adoption Choices program expanded and grew, I worked full-time doing adoption work. My almost 50 years of social work has been in child welfare and adoptions, and I have loved every minute of it. I look forward to more years working in these areas and hopefully continuing to make a difference in the lives of children.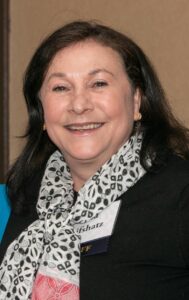 Risa Lifshatz
Risa Lifshatz, office manager, is retiring from JFS after 19 years of service (2001-2020).
I volunteered at JFS to be a Friendly Visitor in 1994. My client was Fred. He was well into his 90s, but he was completely healthy. His wife had passed and he was lonely. I would take him to the supermarket and he would talk incessantly about his life. He was SO happy to see me every week. I realized that one person can make such a big difference by doing such a small thing. So, I stayed. I started as a part-time bookkeeper and over the years took on the roles of office manager, board liaison and supervisor of the admin team. I cherish my time at JFS and wish you well in the future.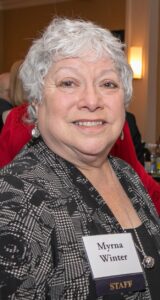 Myrna Winter
Myrna Winter, program specialist with the Family Assistance Program, is retiring from JFS after 23 years of service (1997-2020).
Prior to joining JFS in 1997 as a caseworker for the Citizenship Assistance Program, Myrna was a volunteer caseworker in Russian Resettlement for three years while she worked as an ESL campus coordinator at Fisher College and Newbury College with older adult Russian-speaking students.
During Myrna's tenure at JFS, she coordinated programming for Russian immigrants, assisted at the Wilson School, worked with asylees and refugees from a wide variety of countries, coordinated New American Cultural Enrichment programs and Jewish acculturation programs, managed Russian-speaking volunteers, served as a NORC site coordinator at Claflin House and Peabody apartments, managed the Steps to Success teen programs and for the last 10 years has managed the JFS Joe and Lucy Press Food Pantry, securing donations and coordinating the annual Purim, Passover and farmers market coupon distribution projects.
Thank you for the many years of being able to assist families in need. I have had a very fulfilling career with JFS!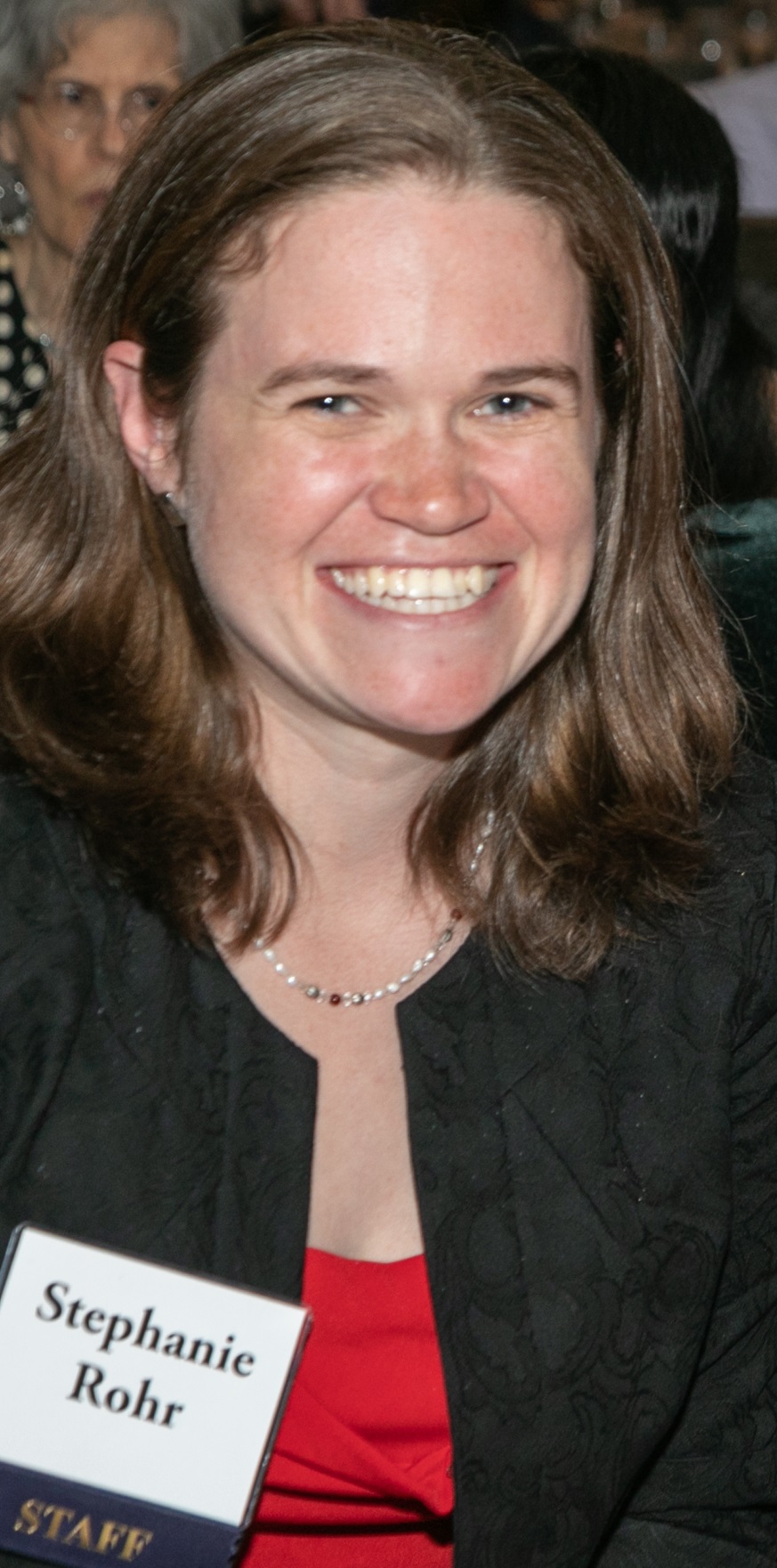 Stephanie Rohr
Stephanie Rohr joined JFS as a program specialist in 2015 upon completing her master's degree in social work from Simmons College and, in time, held the second title of manager of Inclusion Programs. In her role as a case manager with the Family Assistance Network program, she has worked with countless individuals and families, helping them access benefits, providing emergency assistance and empowering them to move toward a better future. Other roles she has held at the agency include coordinator of the Friendly Visitor program and synagogue partner liaison.
She is an educator at heart, formally pursuing this passion as an adjunct professor in the social work program at Simmons College, and led the development of the Jewish Education Collaborative, which facilitated conversations about Jewish LGBTQ+ inclusivity in faith-based settings. Also, to support the agency's ability to serve LGBTQ+ clients, she led numerous trainings and partnered with the LGBT Aging Project | Fenway Health to pilot the Ally Navigator program. More recently, she developed a series of workshops focused on improving the agency's impact in accelerating social, academic and health equity in the community. She has also authored several blog posts, including a recent post titled, "Thinking About Privilege and the Pervasiveness of Racial Injustice: Thoughts by JFS Staff Member Stephanie Rohr," which shares her inner struggle with white privilege. Stephanie leaves JFS in 2020 to move out of state with her family.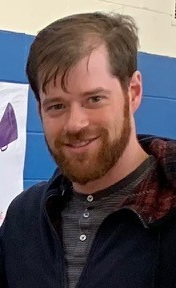 Danny Woodward
Danny Woodward joined JFS in 2016 as a program specialist with the Syrian Refugee Humanitarian Project. In this role, he served as a case manager and his second language skills were critical in resettling eight Arabic-speaking families as he worked tirelessly to facilitate benefits, housing, ESL classes, employment and other necessities to ensure the future success and well-being of these young refugees. He also helped forge partnerships with numerous faith, academic, medical and community organizations to coordinate volunteers and secure funding to support the needs of these families.
Over time, Danny was promoted to manager of Immigrant Services and has assumed responsibility for overseeing the agency's resettlement program and the Children's Clothing Closet. Danny has also been instrumental in the development of the Pathways to College Success program, building partner relationships, recruiting volunteers and providing case management services to students. Additionally, during the COVID-19 crisis, Danny has managed the logistics of the distribution at the Wilson School and worked in the field each week providing food and personal care products to families with young children who are struggling to make ends meet. Danny leaves JFS in 2020 to pursue a law degree at the University of Texas at Austin.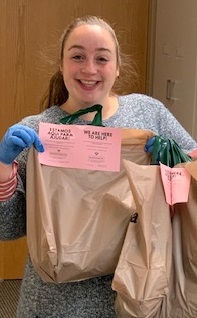 Maggie Kenney
Maggie Kenney came to JFS in 2017 as an Americorps member through the New American Integration Program (NAIP). Upon completion of that program, Maggie was hired as a program specialist with Immigrant Services and has served as a case manager in the Citizenship and Resettlement programs, taught ESL, escorted older adults to medical appointments as a Patient Navigator, coordinated programming and managed volunteers in the Pathways to Academic Growth, Empowerment and Success (PAGES) program and the Children's Clothing Closet, managed development projects and events, including the annual build-a-backpack event and the Seize the Dream auction, provided supervisory support to student interns and Americorps members and authored numerous blog posts highlighting the important work of the agency, including a recent post titled, "Community Action & Anti-Racism, Thoughts & Resources From JFS Staff Member Maggie Kenney," which illustrates her passion for social justice. Additionally, during the COVID-19 crisis, Maggie worked in the field each week distributing food and personal care products to individuals and families in need. Maggie leaves JFS in 2020 to pursue a master's in social work at Boston College.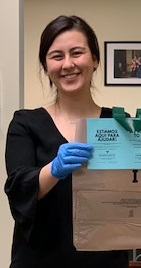 Anniey Michelson
Anniey Michelson first served at JFS as a volunteer with the Syrian Refugee Humanitarian Project in 2017, and was then hired as a multi-portfolio program specialist in 2019. During her time of employment, Anniey supported the Patient Navigator team both in the field and in the office, ran programming in the Healthy Partners/Naturally Occurring Retirement Community (NORC) program, worked and managed volunteers at the Children's Clothing Closet and the Pathways to Academic Growth, Empowerment and Success (PAGES) program, and assisted the development team with a variety of projects, often sharing her talents as a photographer and digital movie-maker. She also authored a variety of blog posts that highlighted the important work of the agency, including a recent post titled, "Reflecting on Our Jewish Values and Honoring Those Who Came Before Us," a Holocaust story of survival that makes connections to Anniey's family history both related to the Holocaust as well as the agency. Additionally, during the COVID-19 crisis, Anniey worked in the field each week distributing food and personal care products to individuals and families in need. Anniey leaves JFS in 2020 to pursue a doctor of nursing practice at the University of Vermont.
Our deepest gratitude to all. May each of you enjoy health, happiness and success in the years to come!
This post has been contributed by a third party. The opinions, facts and any media content are presented solely by the author, and JewishBoston assumes no responsibility for them. Want to add your voice to the conversation? Publish your own post here. MORE