Cross-posted from InterfaithFamily.com.
As we start preparing for the High Holy Days, the Days of Awe, the span from Rosh Hashanah through Yom Kippur, many of us are taking stock of our year and preparing for t'shuvah (literally "returning," it generally means "repentance").
There's a concept known as cheshbon ha'nefesh, an accounting of the soul, this time of year. It can be viewed as a spiritual spreadsheet, examining the profits and losses we've built up or depleted, from which we can make a business plan for our spiritual life in the coming year. The economic/business metaphor is echoed in Pirkei Avot, The Chapters of the Fathers:
"Estimate the loss of a mitzvah against the reward, and the reward of a sin against the loss."
This same Jewish text describes, at one point, our lives with:
"The day is short, the work is great, the workers are lazy, the payment is much, and the Boss is pressing."
The general idea behind the business/accounting metaphor is to show discipline in our spiritual lives. But… what does that actually mean? And how do we do it? Are there specific things we're supposed to reflect on? Are any topics off limits?
In short… it's up to you. Now, that can certainly be daunting. So I've compiled a few helpful websites that make reflecting in preparation for the Days of Awe interesting, accessible and innovative.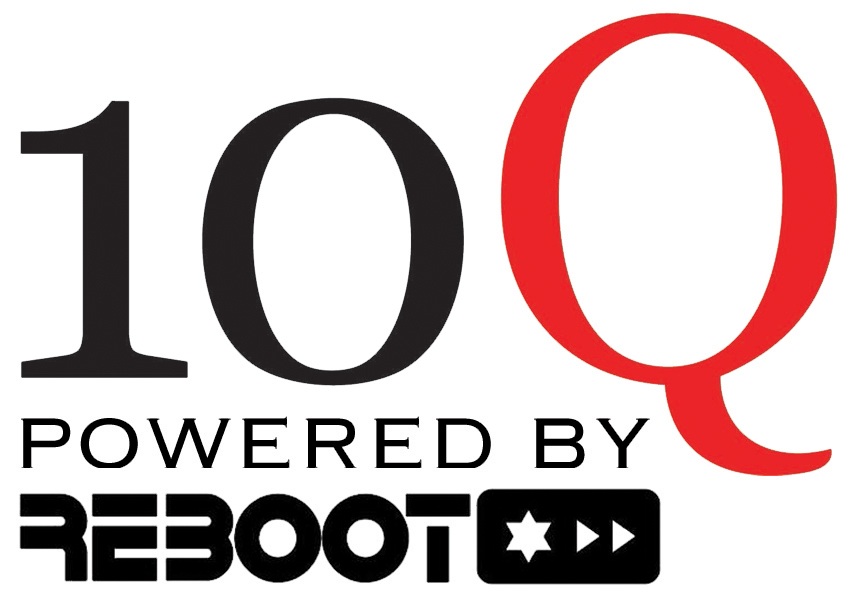 An annual project of Reboot (remember them from Shabbat, unplugged?), 10q offers a new way for people of all backgrounds to slow down and examine their lives in a meaningful way.
A reinvention of the ancient ritual of reflection during the ten days surrounding the Jewish New Year, sends participants one question a day online over the 10 days between the holidays of Rosh Hashanah and Yom Kippur. At the end of the 10 days, participants' answers to questions, about life, future goals, relationships, ways they hope to impact the world around them, and more, are sent into a digital vault. The next year, just before Rosh Hashanah, answers are sent back to participants and the process begins again. Over time, people can build up an archive of their beliefs, values and experiences.

The questions are purposely self reflective rather than religious to accommodate people of all background. In 2010 more than 80,000 visitors including Catholics, Muslims, Jews and atheists visited the 10Q site during the 10 days.
In other words, sign up and, come Rosh Hashanah through Yom Kippur, you'll receive daily secret questions meant to make you think and reflect. Your answers ("Make your answers serious. Silly. Salacious. However you like.") will be kept online, privately and securely, for you and next year before Rosh Hashanah you'll be reminded of your answers so that you can take stock (cheshbon nefesh) and review how your year went.
Heshbon ha-Nefesh – Morim.org
Morim.org, a Jewish education website, has a comprehensive lesson plan for teaching, thinking, discussing and examining the concepts of reflection and tshuvah as they relate to the High Holy Days.
This project, composed of seven core elements, presents an approach to the concept of Heshbon ha-Nefesh (reunion with the soul), understanding "balance" in terms of "value" and as an attitude within Judaism.

Given the significance of time within Judaism, balance is not achieved in a day but over a period of time, with a beginning marked by the start of the year and a final judgment to evaluate this balance.

There are four key concepts that support this period of time: the start or beginning of this period of reflection (teruah), the awakening of the soul and awareness to carry out this task, memory or introspection, and the evaluation and judgment of acts.

This leads to balance, which is the act of thinking, analyzing, and drawing conclusions with regard to one's own actions and those of a collective.
This isn't just for teachers; parents could easily pull talking points, activities, music and smaller lessons from this guide to use as helpful resources and teaching tools with their own children.
The process of self-examination, reflection, traditionally starts on the first day of the month of Elul. (This year, Elul started yesterday, August 31.) Rosh Chodesh (the one or two days marking the start of a new month) Elul was August 30 and 31.
Starting on Rosh Chodesh Elul, concluding with Rosh Hashanah, Jewels of Elul emails daily questions ("jewels") designed to make you think. The questions come from varied sources, from Mary J. Blige and Eminem to Jewish rabbis and cantors representing the full denominational spectrum.
There is a great Jewish tradition to dedicate the 29 days in the month of Elul to study and prepare for the coming high holy days. The time is supposed to challenge us to use each day as an opportunity for growth and discovery.

While conceptually the notion is noble, it was clear that acting on it was a bit more challenging. Enter . . . Jewels of Elul. For the past seven years I have collected short stories, anecdotes and introspections from some fascinating people.

We have collected these Jewels of Elul, from an eclectic group of people including President Barack Obama, Eli Winkelman, Desmond Tutu, the Dali Lama, Sarah Lefton, Eli Wiesel, Deepak Chopra, Pastor Rick Warren, Kirk Douglas, Rev. Ed Bacon, Rabbi David Wolpe, Ruth Messinger, Jeffrey Katzenberg and over 100 other inspired voices . . . well known and not so well known.

I invite you to make each day count. Join us in preparing for this most sacred time of year.
I hope these resources are helpful whether you choose to use them or even just think about using them (or think about thinking about thinking about…).
'Tis the season for reflection!
This post has been contributed by a third party. The opinions, facts and any media content are presented solely by the author, and JewishBoston assumes no responsibility for them. Want to add your voice to the conversation? Publish your own post here. MORE